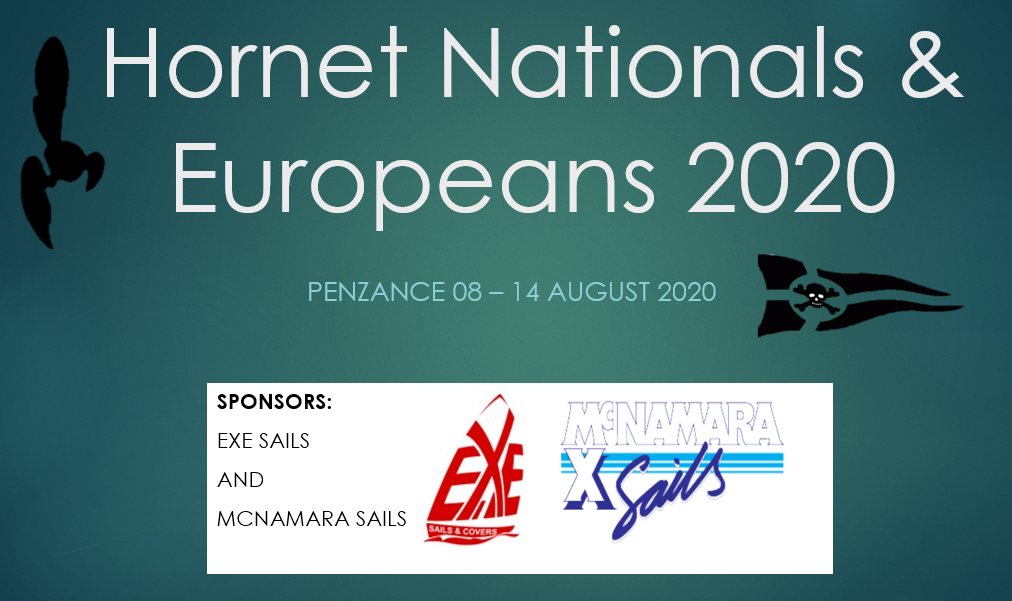 Penzance Sailing Club, Cornwall
For 2020, the Hornet class association is pleased to announce that Penzance Sailing Club will be hosting our combined Nationals (4-day) and Europeans (6-day) events between 8th and 14th August. Like our previous, very successful visit to Penzance, we are sharing the venue but this time with the Scorpion class who will be celebration their 60th anniversary. Both classes are expecting a big turnout so expect plenty of action on and off the water!
Latest Bulletin 11th Nov – includes details of Accommodation offers, entry fees, early entry discounts, deposits and spinnaker draw,
Downloads:
Warning : Long but important message regarding next year's championships:
The Nationals will be contested over the first four days with the Europeans over the full six day. Our class sail makers are providing very generous sponsorship to support the event with Exe Sails supplying prizes and more (see below) and McNamara Sails making a substantial contribution towards our Championship Dinner. As for Penzance, we have been there before, we know the sailing waters are fabulous and West Cornwall is a great place to visit. Last time we managed 49 entries; if we could match that…..
The entry form provides you the option of entering 4 or 6 day events. Please read it carefully as there are different entry fees depending upon when you enter. Hint: the earlier you pay the less you pay!
As explained by Chairman Dave Edge at his inaugural AGM address, we need to develop the habit of entering much earlier than day of the event! Both the hosting club and the committee need to have a reasonable idea of entries well in advance of the event (we have committed to a minimum entry numbers and Penzance SC needs numbers to ensure good on water management).
To encourage everyone to enter early and not leave things to the last minute we have made several offers. Initially there is a £20 discount on the standard entry fee providing you pay a £20 holding deposit by 8th December 2019. Expired
If you take up this early entry discount/deposit you will also benefit from the different payment options to make life easier on your bank account. In particular, there is the option to pay by monthly standing order from February to July (allowing you recover from your Christmas spending sprees). These days it is very easy to set up your own standing order online but in case this option is not available, we have provided a mandate that you can take or send to your bank. Expired
So, if saving money was not a good enough incentive to enter early, Exe Sails have very kindly offered to raffle a new rule spinnaker. If you enter by 2nd March (the day after the Dinghy Show at Ally Pally) you will receive one raffle ticket. Expired
BUT if you enter by 8th December you will receive TWO tickets!! Who knows we might even throw in a cuddly toy! Expired
Very, very important – if you are not a member you cannot take advantage of these discounts, raffle and payment schemes.
WHAT IF YOU DIDN'T PAY YOUR MEMBERSHIP THIS YEAR and want to have the chance of a discounted championship and chance to win a new kite as well? If you join now (before 8th December), your 2019 membership will cover you though the whole of 2020. You will pay the "old" subscription of £30, not the new rate of £35 – seems a good deal to me. Expired